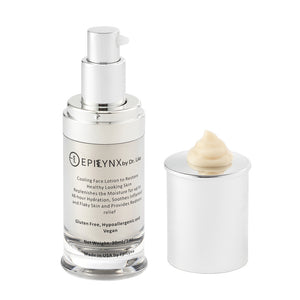 Face Moisturizer for Sensitive and Dry Skin - Lightweight
Fresh skin!
I am a first time user of Epilynx products and I love them! My face feels fresh, clean, and soft. I am recommending to anyone needing safe and clean products!
Lightweight & effective!
I love these products they're all so clean & with my sensitive skin I am always cautious of facial products. I've been using EpiLynx for about a year and my skin is clean, smooth, evenly toned & looks amazing! I am forever grateful to this company & will be a lifetime customer!!!
Love it! Great service.
This was my first time ordering from Epilynx and unfortunately UPS lost my order in the mail. After explaining the situation to the Epilynx, they were kind enough to re-send the products and responded very quickly.
This lotion itself is cooling, smells amazing and doesn't trigger my perioral dermatitis. Highly recommend!
New staple in my skincare routine!!
Very light and moisturizing. I'm the last few months I've noticed less redness and clearer skin. Love pairing it with the heavier moisturizer in the winter months!
Really like the product, just wish the packaging held more of it!
Vegan Face Moisturizer for Very Dry Skin - Lightweight Is as very nice, soothing moisturizer that feels good on my dry skin. The packaging frustrates me though. It is fancy yet doesn't hold much of the actual product. It runs out very quickly. I have found this to be true of the epilynx eye cream as well. It feels very nice and doesn't sting like many eye products, but the jar is tiny and hold very little of the cream.