This obsessively clean mascara achieves ultimate lift, length, and volume—without potentially harmful ingredients—and supports stronger lashes. Its soft, molded brush makes application effortless, so you can easily define lashes from roots to ends with rich, smudge-proof color.
Go ahead, think big! The brush of this allergen-free mascara simultaneously coats and elongates lashes for a seriously bold finish and volume.
This Gluten-Free, Hypoallergenic, Vegan Volume Mega Mascara (Black Color) is perfect for maximum length and volume. This mascara is formulated with a special mascara brush and is waterproof.
Description
Take on the world with EpiLynx Volume Mega Mascara dramatic lashes, and all the confidence in just one swipe. This volumizing and lifting mascara gives you the false lash effect of your dreams without smudging or flaking. For a bold look with definition, we made the mascara brush head with intertwined bristles to load up your look with pigment while separating each lash. The creamy formula is infused with Glycerin to hold your lashes' curl and give you a smooth, effortless application every time. 
The Gluten-Free, Hypoallergenic, Vegan Volume Mega Mascara is formulated Gluten Free, Allergen-Free and Vegan.
Ingredients:
Aqua, Acrylates/Ethylhexyl Acrylate Copolymer, Carnauba Acid Wax, Propylene Glycol, CI 77499, Polysorbate 80, Stearic Acid, Glycerin Stearate, propylene Glycol Stearate, Magnesium, Aluminum Silicate, Triethanolamine, Phenoxyethanol.

Net Weight: 10ml / 10g
Shelf-life: 12 months after opening.
Designed and Formulated in USA, Made in PRC
Before use we recommend to do a patch test:
Patch test
Dab a small amount of the product behind your ear or on your inner elbow and leaving it for 30 min. If you develop any irritation or feel unwell after the patch test, do not use the product.
This product is not intended for oral use, or consumption. Do not swallow.
Benefits:
Thickens and Lengthens lashes
Plumps and lifts your lashes all day
Effortless application in one stroke
Smudge- and flake-resistant formula 

Adds Volume
How To Use:
Use the Mascara tube to place a thin, single layer on lashes. Place the mascara wand at the base of lashes and slowly wiggle the wand back and forth up to the tip of your lashes. Be sure to fully coat each lash. Repeat a few times until you are satisfied with the look!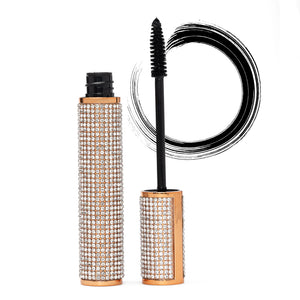 Volume Mega Mascara - for Bold Lashes
Love - best mascara I've ever used
I used the same mascara for years and began to have an allergic reaction - after stopping it I needed a new mascara that didn't have toxic chemicals in it! After doing research I learned that I became intolerant to the mascera I was using for many years. I also discovered that most mascaras that you buy over-the-counter have toxic chemicals that are linked to breast cancer and other issues. I downloaded the Think Dirty app and learned a lot about the products that I use. This mascera it was my first "clean make up" product that I purchased. I'm grateful this is available! Wish the price was less. The wand is great it's the perfect shape for long lashes. I love it. I pair it with Lancôme primer which is also clean! Thank you Dr. Liia!
Flawless Mascara
I was really impressed with how effortlessly this glided on my lashes without leaving clumps or looking cakey. I really love how it is also gluten free which isn't something you consider when using a mascara but to some it can mean the world of a difference.
my go to
i've come to love this mascara it applies so smoothly leaving my lashes full and bold, Im in love with the sparkling packaging.
Stunning packaging
I love the packaging of this product. It's really beautiful and eye-catching. The mascara is really nice and buildable. I generally go for a feathery-long lash look. This product focuses more on volume, rather than length, so it isn't quite the look I go for, but I do like the formal. For my full review, you can watch my tiktok here: https:[****]/video/7258443869556067626
Beautiful Formula
What a great mascara for a great price! Lashes look longer and fuller without clumping. Doesn't irritate the eyes of flake off. Very easy to remove and doesn't pull out any lashes.