This lightweight, hydrating facial mist moisturizes the skin and refreshes makeup with an invigorating scent.  Perfect to start or end your day with, or even as a midday refresher.
The Rose water formula is a Rose Water Facial Toner/Facial Setting Spray is enriched with Glycerin to soothe and refresh the skin.
Ultra-hydrating facial toner/setting spray refines pores & helps reduce appearance of fine lines & wrinkles.
Offers Deep Hydration: Replenishes moisture with vegetable glycerin and rose water for a more youthful glow.
Fresh & Radiant: Wipes away impurities, tones & reduces the look of pores for fresh, glowing skin.
This illuminating, refreshing and skin conditioning setting spray will help hydrate, restore and soften the skin while giving you a gorgeous glow.
Formulated Gluten Free, Hypoallergenic and Vegan.
Ingredients:
Rose Water, Vegetable Glycerin, Distilled Water, Witch Hazel, Mica
Weight: 118 ml/4 oz
Shelf-life: 12 months after opening.
Before use we recommend to do a patch test:
Patch test
Dab a small amount of the product behind your ear or on your inner elbow and leaving it for 30 min. If you develop any irritation or feel unwell after the patch test, do not use the product.
This product is not intended for oral use, or consumption. Do not swallow.
Benefits:
Hydrating
Helps uneven skin tone
Renews dull skin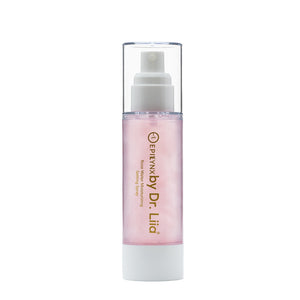 Rosewater Facial Toner - Hydrates, Tones and Refines Pores
Perfect
This mist is so versatile. I use it after a bath or shower as a toner, I use it before & after my make up. And even though a small detail. The mica is just so pretty & playful. It makes me happy. 10/10!