This obsessively clean, vegan, and cruelty-free mascara achieves ultimate lift, length, and volume and supports stronger lashes. Its soft, molded brush makes application effortless, so you can easily define lashes from roots to ends with rich, smudge-proof color.
Go ahead, think BIG! This magic Gluten-Free, Vegan, Cruelty-Free Black Mascara -  Lengthening and Volume is perfect for maximum length and volume. This Gluten-Free, Vegan, Cruelty-Free Black Mascara -  Lengthening and Volume is formulated with a special double brush.
Description
A volumizing and lengthening black mascara with a uniquely shaped brush head to give you big, bold lashes that command attention.
Why you will love it:
Plumps and lifts your lashes all day
Effortless application in one stroke
Smudge- and flake-resistant formula
The Magic Gluten-Free, Vegan Black Mascara for Lengthening and Volumizing Your Lashes is EpiLynx's mascara that is guaranteed to give you the appearance of fuller lashes. 
The Gluten-Free, Vegan, Cruelty-Free Black Mascara -  Lengthening and Volume is formulated Gluten Free, Allergen-Free and Vegan.
Ingredients:
Aqua, Acrylates/Ethylhexyl Acrylate Copolymer, Carnauba Acid Wax, Propylene Glycol, CI 77499, Polysorbate 80, Stearic Acid, Glycerin Stearate, Propylene Glycol Stearate, Magnesium, Aluminum Silicate, Triethanolamine, Phenoxyethanol.

Net Weight: 10ml / 10g
Shelf-life: 12 months after opening.
Designed and Formulated in USA, Made in PRC
Before use we recommend to do a patch test:
Patch test
Dab a small amount of the product behind your ear or on your inner elbow and leaving it for 30 min. If you develop any irritation or feel unwell after the patch test, do not use the product.
This product is not intended for oral use, or consumption. Do not swallow.
Benefits:
Thickens and Lengthens lashes
Adds Volume
How To Use:
1. Open step 2 part of the mascara and start applying on your lashes. Start from the roots, build up towards the middle and then finish off with the tip of the lashes. Repeat a couple of times until the desired effect is achieved.

2. If needed to take the excess of the mascara paste from the lashes, use step 1 part of the mascara top to brush it gently way. One or 2 strikes are enough.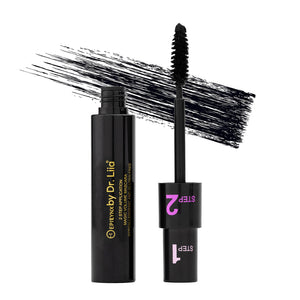 Perfect Black Mascara - Length and Volume
My daughter is in love
My daughter is a first time mascara user, who also happens to have Celiac, so finding make up that is safe for her to use and learn with can be difficult but Epilynx has saved the day! She uses this daily and says its super easy to use and doesn't take her long at all to apply and it looks FANTASTIC after! Thank you Epilynx!!!
Great!
I love this mascara! It does exactly what it should and it's clean!
Outstanding
Your products are outstanding. I'm so impressed. I was experiencing other natural makeup that fades, flakes or texture is a failure. EpiLynx is amazing and love the price. The Free gifts are a wonderful surprise!
Love this!
Great find! 🤩
I agree with the other reviewers; mascara goes on smoothly, stays put, does not flake off and does not irritate or sting my eyes. It does not not provide a whole lot of volume even after a few times going over the lashes, but the fact that it is a clean mascara and has all the other benefits I mentioned, I will keep using it and will buy it again.
GREAT MACARA
I love that this product doesn't flake. I wear contacts and it doesn't bother me. This is the first mascara that doesn't irritate my eyes. I am gluten free and gave up on makeup . I am so happy to have found Epilynx!!